ART & GRAPHICS UPDATE
Thanks, Joseph! In the months since our Campaign demo, the team has been heads down working on everything from lighting to fog to wear-and-tear on Spartan armor (as you'll see further below). We know the community has been eager to hear about, and see, the improvements and progress the team has made since July so today we're joined by a few members of our art and graphics teams to talk shop.
Hi guys! Thanks for taking time to talk about some of the great work the team has been up to since our Campaign demo. Before we jump in, can you please briefly introduce yourselves and explain your role on Halo Infinite?
NB: Hi, my name is Nicolas "Sparth" Bouvier and I have been a senior Concept Artist and Art Director for 343 Industries since 2009. My role in the studio and within the team is actually very clear: making sure we are conveying a unified visual direction for Halo Infinite, based on specific pre-established pillars that represent the backbone of our aesthetic. With the help of our two Associate Art Directors, Darren Bacon and Martin Deschambault, we review all assets (environments, characters, vehicles, and weapons) that make it into the game, from start to finish. We basically look for three conditions: making sure all assets fit into the gameplay needs, that they fit into the Halo Aesthetic and Legacy, and finally, that they look awesome.
NH: Hi, my name's Neill Harrison and I'm the Director of Art Management at 343 Industries, working on Halo Infinite. I've been managing the Art team since Halo 4, and the way I would describe my role is that Sparth, as our Art Director, provides the artistic direction for our game, and my role as his partner is to build and manage the Art team that executes on this vision.
AS: Hi, I am Ani Shastry, and I have been the Development Manager for the Graphics team on Halo Infinite over the last two and a half years. All the graphics engineering initiatives for this project roll up through me, and my teams and I collaborate very closely with Neill's and Sparth's teams on the visual fidelity of Halo Infinite.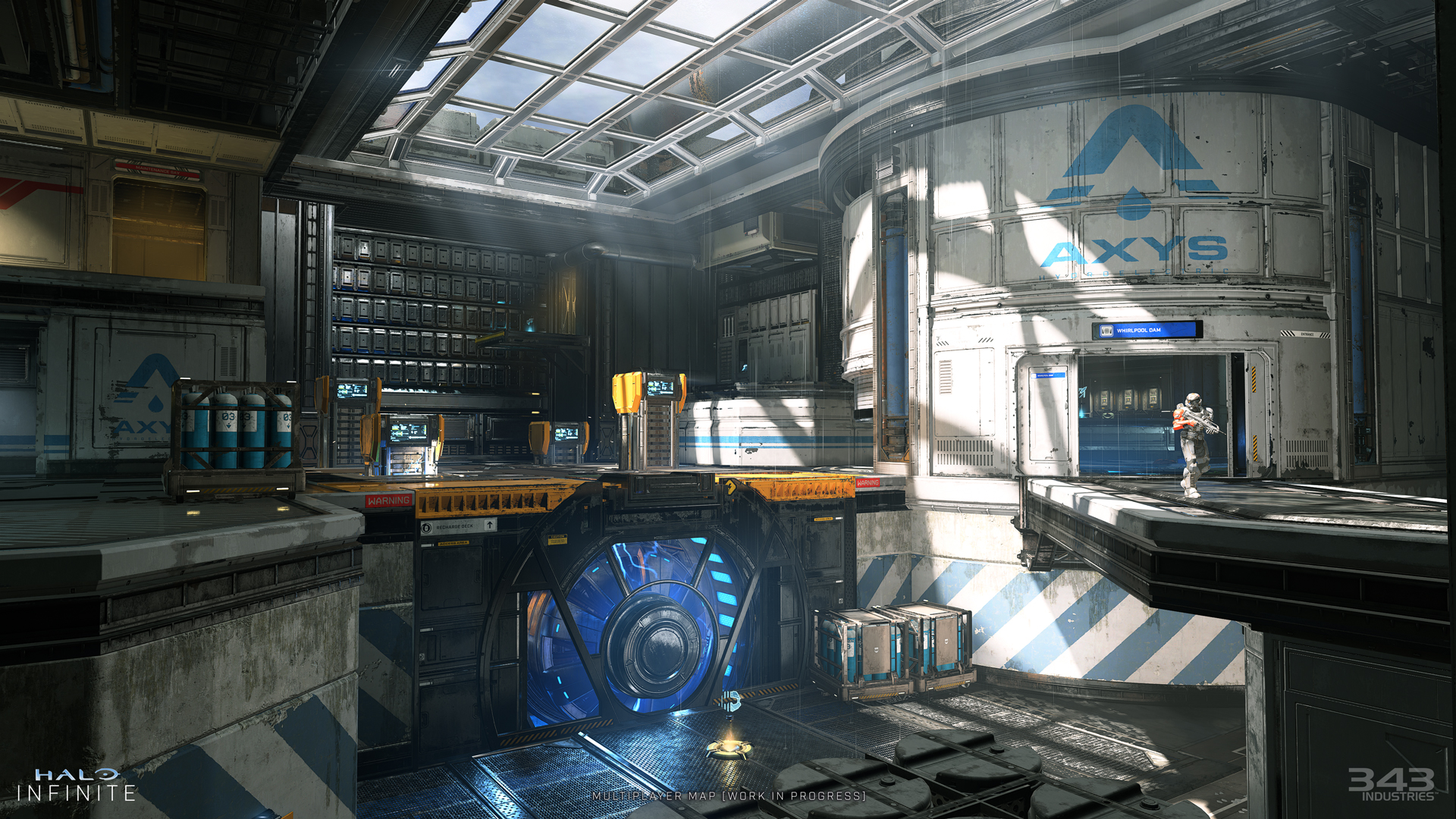 Back in July, our teams pulled together a slice of representative gameplay that introduced fans to the expansive nature of this new ring world and we got the first look at Master Chief using the Grappleshot and various weaponry to take on the Banished. Despite excitement around the gameplay, we knew we had plenty of work left to do on the art and graphics side. Can you speak a bit about the demo and the team's perspective?
NH: The primary goal for the Campaign demo in July was showing Halo Infinite gameplay for the first time. While that aspect generally landed as we wanted, the reality is that the art and visuals weren't at the bar we hold for Halo – even in a work-in-progress state.
Much of the feedback we heard from the community aligned with our own views and work we were already committed to doing around things like indirect lighting, material response, foliage and tree rendering, clouds, level-of-detail transitions, and character fidelity. Still, the feedback was humbling, and it also pushed us to look at additional opportunities for improvement.
It really is a privilege to work on a Halo game, we have such a strong community who care so deeply about the Halo franchise and who we can always rely upon to provide valuable feedback on every aspect of our products. It's not always easy to hear, but we truly appreciate the community's passion which drives us to do better.
AS: July was indeed a very much work-in-progress slice of the technology, and a reasonable set of key features from global illumination and dynamic time of day, to GPU-driven rendering and variable rate shading were all in active development. Much of the graphics team's capacity, along with that of some key technical artists, was focused on achieving high resolution and performance leading up to the demo, which meant several of these features didn't quite get the level of polish and bug fixing that was warranted.
Visual fidelity is a very important goal for Halo Infinite, and the graphics and art teams have been continually aspiring, and working closely with each other, to create the best-looking Halo game ever. I definitely want to acknowledge the input that we got from the Halo community and our fanbase; staying open to critical feedback and looking at areas where we can learn and do better is an inherent part of our culture at 343.
Internally I remember we discussed the feedback with two key areas in mind – visual fidelity and art style. Before we get into the former, can you briefly touch on the latter and help clarify our intentions as it relates to the overall art style of Halo Infinite?
NB: From a player's perspective, I absolutely must mention that I have been sort of a child of Bungie's Marathon from 1994. It was the very first FPS game I got hooked on, and a lot of its original DNA prevailed in Halo several years later. All this to say, I have always been very attached to visual continuity, especially for such a large franchise. I felt that Halo 5, despite many successes, didn't take player feedback enough into account, and many felt the game's visuals were deviating off course. It was vital to embed Halo Infinite within very stable foundations that would borrow from the past as well as making sure that any new assets would convey a sense of legacy that would resonate with all players, old-timers and newcomers alike.
We knew it wouldn't be trivial to combine the cleaner and simpler forms of classic games like Halo 1 or 2 with the next-gen requirements and expectations of Halo Infinite. Merging both was going to be a challenge, but we stood close to our visual principles and made it work in the best way, one day at a time. We managed to find a balance of modernized visuals combined with a classic aesthetic that will definitely speak to all, and we couldn't be more proud of this.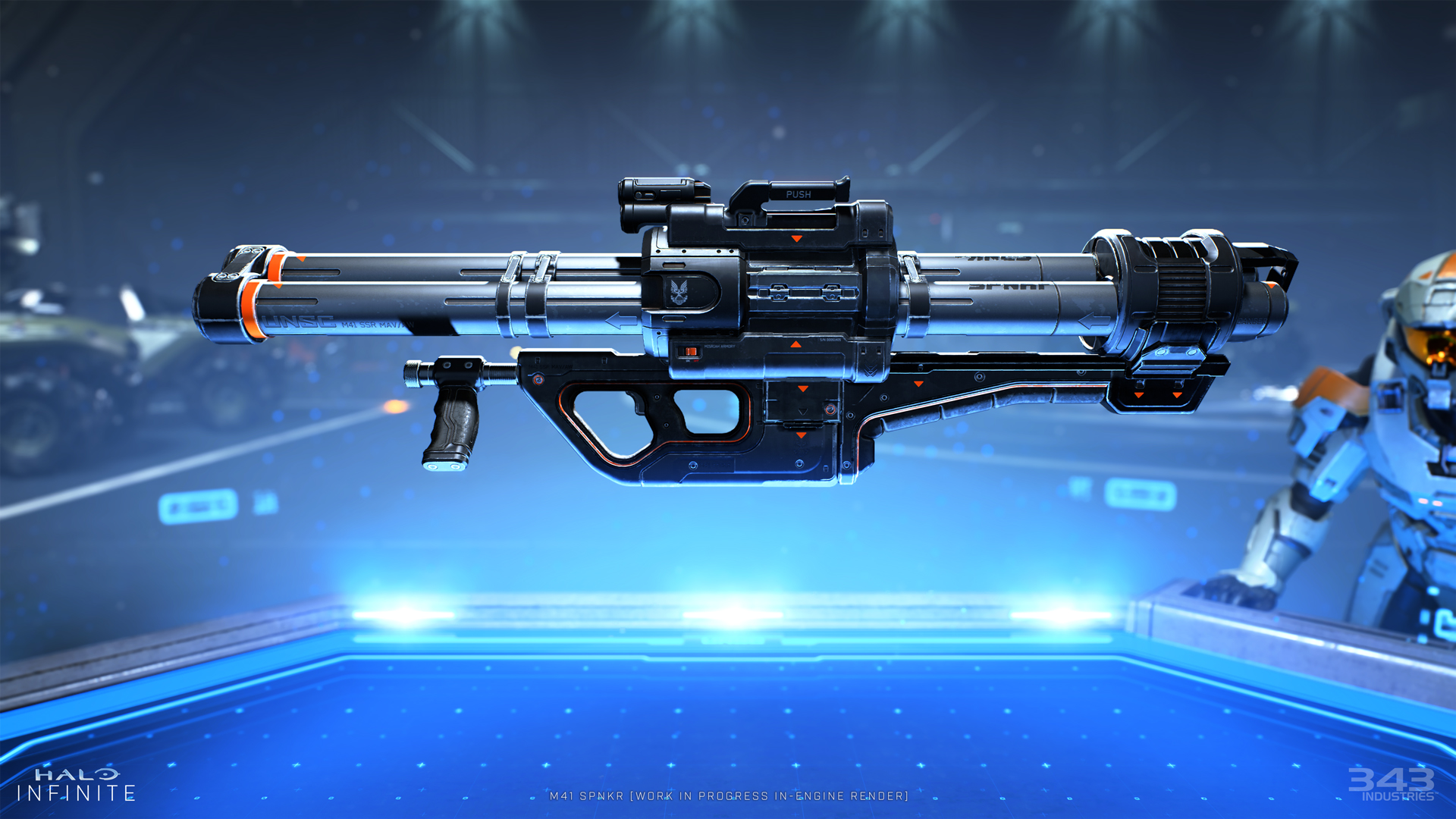 There's no denying that the return to a classic art style immediately evokes the unmistakable look and feel of Halo. When it comes to visual fidelity, the team has been making progress since July as we can see in some of the latest images we're sharing here today. Can you talk about some of the specific areas the team has been working on?
AS: On the graphics technology front we have made improvements along with fixing bugs that were inherent to some of the techniques, as well as iterating and polishing the features that were still in development.
Some of the key areas of progress include better quality of global illumination, ambient occlusion, shadows, volumetric lighting, sky, and atmosphere. We have also addressed issues with our GPU-driven rendering and texture streaming solution that should mitigate the LOD popping and texture quality issues that were prevalent in the July demo.
There is more to be done, of course, and we are actively partnering with Neill's and Sparth's teams to drive the visual quality forward from both an engineering as well as an artistic front.
NH: In addition to the graphics tech changes, we have made a lot of improvements on the Art/Content side across all disciplines such as Environment, Lighting, Weapons, FX and more. There is too much to cover here but I'll just talk through some of the more impactful changes in my mind….
Firstly, there's been a lot of work done re-tuning our dynamic lighting values to add more punch and contrast to the image. These included adjustments to our sun intensity, fog/atmosphere, and the addition of color grading which did not make it into the July gameplay demo.
We've improved some of our materials to get more specular response, more wear-and-tear on weapons/vehicles, more fidelity in our characters, and more macro breakup on large surfaces like rocks, terrain, and the hex walls. We're now also getting more of our textural detail coming through to the final frame thanks to a sharpening process that our graphics team have added. This helps offset some of the natural blurring of temporal anti-aliasing and it certainly helps our assets shine.
We're eager to show the progress the team has made in Campaign as soon we can, but we want to make sure we have all the right pieces coming together and this can be tricky with a lot of moving parts and an expansive world of this scope. We know everyone is keen to see more and we look forward to sharing more in future updates in the months ahead.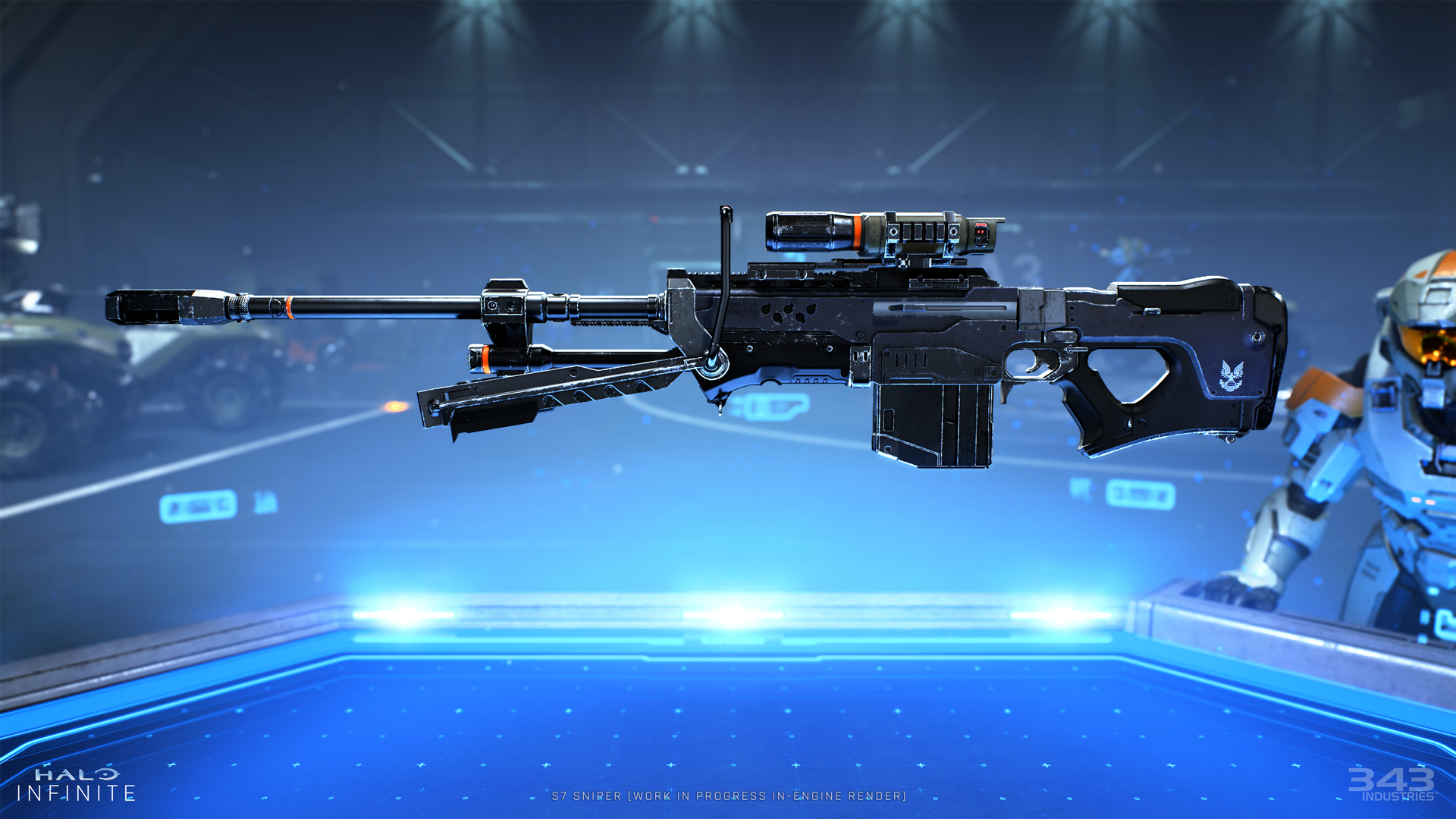 Speaking of improvements on the art/content side, one big outcome from our demo was the emergence of the now world-renowned "Craig." While we and the internet have come to love dear Craig, we know he wasn't his "best self" back in July. Can you give us any updates on Craig as he stands today?
NH: Firstly, I can confirm that the facial animation on NPCs was not fully implemented in that build, which resulted in Craig's incredibly deadpan/lifeless look. All characters are modelled in a neutral pose, prior to blendshapes & animation being applied. So, poor old Craig was never intended to be seen in that condition which is not something that was evident during the gameplay. It was only later, in the close-up freeze frame of his one bad moment, where it came to light and the legend of Craig was born.
There's been further work done on the material fidelity and more variety added for Brute faces, we're also working to add some hairdos and beards which was something we hadn't gotten to in July. So, whilst we have come to love our dear old Craig, he's certainly undergoing a significant makeover.
Craig isn't the only model to see improvements though, there have been significant changes to other characters & 3D models as we continue to evolve and polish our content, some of which can be seen in the Spartan and weapon renders being shared today.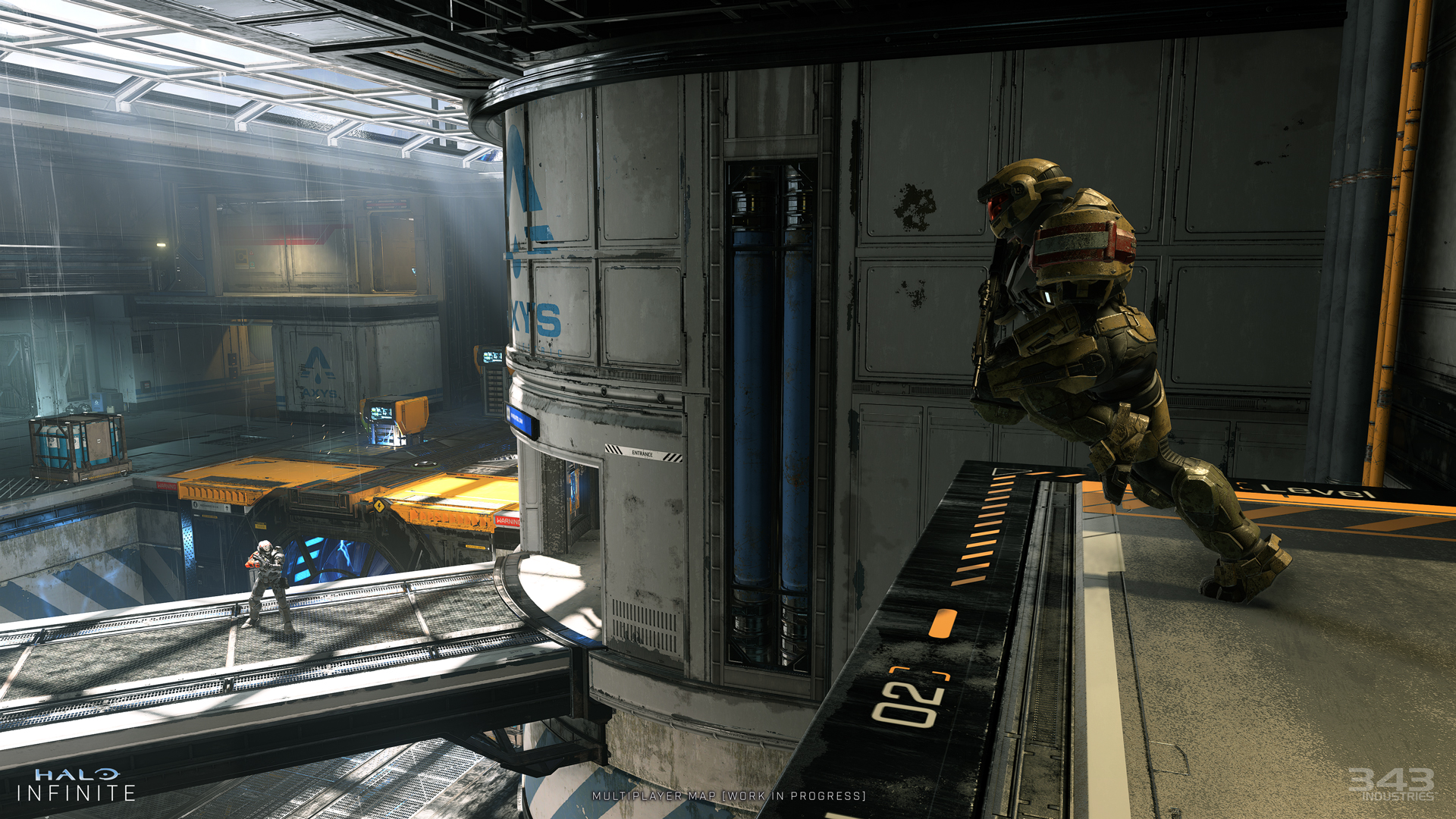 In today's update, we're providing the first glimpses of an interior space via one of Halo Infinite's work-in-progress multiplayer maps. From a content and graphics perspective, how is the approach similar – and different – when it comes to the look and feel of these more intimate traditional spaces vs. the open and expansive outdoor environments?
AS: From a graphics technology perspective, the majority of the rendering pipeline and rendering techniques are shared between interior and exterior spaces. Very similar shading models, shadowing algorithms, and post processing effects are used in either case.
Where the primary difference comes into play is the sheer density of content in the expansive outdoor environment and the challenges that brings in authoring the content at scale, and then at runtime efficiently streaming all that data and rendering it at a smooth 60 frames per second at high resolutions. Another difference that is unique to the exterior environment is the seamless time of day, which requires a more dynamic global illumination approach, along with providing various knobs to control the elements of lighting, sky and atmospherics, and color grading as time progresses.
This is the first time that a game in the Halo franchise has had to tackle either of these challenges, and so the team had to spend a lot of cycles building and optimizing engine and toolchain functionality to facilitate this experience in Halo Infinite.
NH: At a high level, the approach and our processes are pretty similar between the two, we go through the same stages of construction and polish for our modelling, texturing and lighting and we are always building our assets in a modular way that facilitates their reuse in different scenarios.
The big difference is that typically our interior spaces are somewhat more linear, controlled, and constructed spaces built from hard surfaces, meaning lots of metals, reflections and more curated lighting. When creating the large & open natural environments, this involves many more organic assets, meaning our biomes and terrain are one of the main focuses.
Obviously with Multiplayer maps, collaboration with designers is key. Layout, sight lines, and player navigation are crucial and are all things that we iterate on constantly as we fine tune the experience.
There's something really cool about the juxtaposition between the intimate and expansive spaces in Halo Infinite and whilst they each offer different challenges, they should bring a nice balance and variety to the experience.
The extra time has already yielded progress on the visual fidelity front, but we're still not done. Can you talk some about remaining priorities and work the team is focused on?
AS: On the graphics engineering side, we have a team that is continuing to polish up the last bits of feature work on lighting, global illumination, and atmospherics. We are also iterating very closely with Neill's teams on making sure our content creators can take full advantage of all the cool technologies we have built over the last couple of years. Another group of graphics developers is staying heads-down on optimizing the end-to-end rendering pipeline so that we can deliver a great experience on resolution and performance, across all our target platforms, to our players.
NH: On the Art side it's mostly further polish and bringing it all together, we have a concept of "Content Complete", where we get all of our content into the build and then we have time after that to assess holistically and further polish areas that would benefit the most. Often times, significant improvements are made after our Content Complete milestones. Set dressing, mask painting, texture/material improvements, FX/Lighting tweaking and animation polish/variety are all still being worked on.
We've made significant improvements on our foliage, trees and grass, both in terms of rendering, fidelity and how we maintain that over distance, but this is another area still being worked on and fidelity will further improve. We're excited to show you as soon as we're able to bring things together and showcase the work in the best light.
Thank you very much for diving into the visual fidelity work the team has been focused on! Before we shift gears to our next section, any final words or parting thoughts to share?
NH: I'd just like to thank everyone reading this update, we really appreciate your continued support for Halo and again for all the feedback that the community provides us. To know that people care so much about the Halo franchise is a huge motivator to us all at 343 and we are working tirelessly to deliver the best possible Halo experience to you all. I'd also like to state how proud I am of our team, everyone is working incredibly hard to deliver you the best experience possible in Halo Infinite. We're making fantastic progress every week despite the continued and unprecedented challenge of these difficult times and we're excited to be able to share more with you all soon.
AS: It is awesome to see how much the community cares about the visual fidelity of our beloved franchise. We will always welcome feedback and look at taking appropriate actions to address that when and where it is feasible. As Neill says, it is our goal to deliver the best possible Halo experience, and we are continuing to work hard towards building something that we will be very proud of and the fanbase will hopefully love. We look forward to sharing more in the coming months.
NB: Making a game from hundreds of "at home" desks is clearly something that initially reduced our ability to merge all game assets into a single successful vision. It was without a doubt the biggest challenge we have been facing this year, but with time, dedication, and perseverance, we are making it work. The improvements have been phenomenal. Ani, Neill, and all teams have been fully focused at improving communication between tech and art, and it's giving fantastic results. I cannot wait to show more, of course!
Thank you again guys, I'm really looking forward to sharing more of the team's work with our community in the months ahead. And now to kick it over to Unyshek, Ryan, and Chris to talk more about the Halo Infinite Live Team and armor customization.