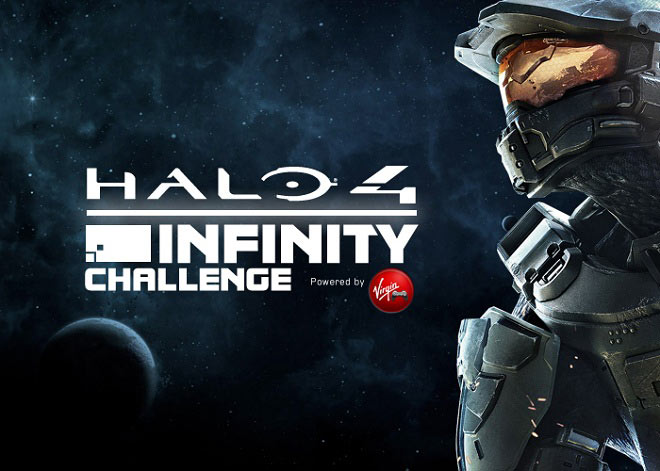 BS Angel from 343 Industries has announced the Halo 4 Infinity Challenge
While Monday has a reputation for being the worst day of the week, that perception is about to change because on December 17, we're joining forces with Virgin Gaming and Xbox 360 to bring you the chance to win a UNSC-themed truck and/or a cameo in a future Halo game. Officially called the Halo 4 Infinity Challenge, this tournament will give you a shot at winning a real life vehicle (you virtual vehicles can suck it!) and one of more than 2,800 total prizes. What exactly will it take to score some sweet Halo swag? Why, I thought you'd never ask!
The Halo 4 Infinity Challenge on Xbox LIVE will bring gamers the biggest and most accessible Halo tournament in the world. This free-to-enter tournament will track your personal score in War Games and the number of Spartan Ops chapters you complete on global leaderboards, and your progress with relevant Halo 4 Challenges. The War Games leaderboard winner will walk away with a UNSC-themed, V8-powered 2013 Ford F-150 SVT Raptor truck designed by our artists here at 343, the Spartan Ops winner will secure an appearance in a future Halo game (don't blame me if you end up being naked and blue), and the Challenge winners will get a prize pack.
Assuming you find the aforementioned prizes appealing, register today by visiting
the Halo 4 Infinity Challenge website
(please note localized registration sites will be available on December 12). If you'd like to get into the nitty-gritty of how everything will work, continue reading.
The qualifier phase will take place December 17 - January 10. For that part of the tournament, you will need to climb the ranks of the global leaderboards by competing in either the Spartan Ops or War Games leaderboard. After the qualifier phase, players will be tiered into three groups (Tier 1: Consisting of the top 10% of players competing, Tier 2: Consisting of the next 11-40% of players competing, and Tier 3: Consisting of the bottom 60% of players competing) and will enter the finals phase. The finals phase will start on January 12 and end on January 19. You can also participate in Weekly Challenges for a chance to win great prizes.
During the finals, the leaderboards will reset and prizes will be awarded to the top performers in each tier. While the prizes within all three tiers will rock your socks, the grand prizes will be offered exclusively for those that have battled their way to the top tier.
For tournament and registration information, please visit:
www.halo4infinitychallenge.com
. Your score will only be tracked from the time you register, so sign up now, Spartans!